Welcome to
GRACE
Presbyterian Church
7 North 4th Street, Martins Ferry, OHIO 43935
A place of

hope and love
where everyone is accepted
At GRACE Presbyterian Church, we have been connecting people to the heart of GOD since1851! This June 15th we will celebrate our 170th Birthday. Our goal and mission then is the same today, to inspire you and motivate you through worship and service, in music and prayer to be the best you can be for GOD. Come and become a part of our growing congregation in Martins Ferry and in our Internet.
GRACE Church is an open welcoming church where everyone is welcomed. Here we experience the inclusiveness as GOD intended the world to be. Come and join in the ministry and mission of GRACE Church.
FREE LEGAL CLINIC
​
Our next Free Legal Clinic is scheduled for Wednesday May 12th. The doors of Webster Hall, 408 Hanover Street, open at 5:30 pm for registration. Be sure to bring all pertinent documents with you.
The book club will meet on ZOOM Thursday, May 27th at 7:00 pm. This month the book is Universe of Two, by Stephen Kiernan. If you are interested in joining the discussion, email the church for the ZOOM link.
​
​
​
​
​
​
​
​
​
​
​
​
​
​
​
​
​
​
​
​
​
​
​
​
ANIMAL ADVENTURE
A new way for Vacation Bible School is GRACE Church's, week long Animal Adventure! It runs from Monday, June 7th through Thursday June 10th with Friday's field trip Oglebay Park's Good Zoo!
Friday begins at 10:00 am.
Monday through Thursday's fun runs from 5:00 - 8:00pm. Call the church office to quickly register! (740-633-2699).
...is Mother's Day! Our Worship Celebration begins every Sunday at 10:30 am - in our sanctuary OR online in our Internet Church!

This Sunday the Sacrament of Holy Communion will be offered to all worshippers. If you join us online in our Internet Church be sure to have your elements prepared in advance of worship. Rev. Bill will give the morning message, which is entitled: "LYDIA The Influencer" We will look at a Acts 16:9-11. Our Elder, David McFarlan is our Worship Leader. Special music will be brought by Brittany Grego from WTOV9 with Elder, Sherry Stratton who will also lead the congregational music. The Children's Sermon is led remotely this week by Linda Webster. Flowers will be presented to all women as a gift from our Elders.
​
Come and join us in the sanctuary or online! Our Internet Church is produced by Dave & Kay McFarlan.
​
Come BACK and worship with us in the sanctuary OR online in our Internet Church. But remember to stay safe.
​
Our Fellowship time, which normally follows our 10:30 am worship, has been suspended until the virus is eradicated.
​
Our 7:00 pm worship, which was held in the Café, has been suspended until further notice.
.
​
GRACE
CHURCH
IS

ALWAYS
OPEN!
While GRACE Church never, ever closes; while our ministries and mission project go on, we encourage everyone to worship with us on-line in our Internet Church.
In our building, if you join us physically, Face Masks are required as well as hand sanitizing.
HUGE Thanks to Sandy Albert for making new seasonal masks! If you are in need of a wonderfully created mask, they can be purchased from the church for $2.00. The donation goes toward our ongoing mission projects.
Join us for worship every Sunday morning in our Internet Church
Right here!
​
Join us in our Internet Church
Our Internet Church broadcasts begins every Sunday at 10:25 AM. Worship with us live over the Internet every Sunday morning if you can
not join us in the sanctuary.
For The LATEST Sermon and Worship Service
Join us this Sunday and connect with people, but more importantly, come and connect with GOD.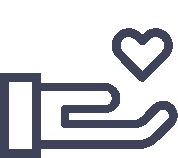 "Whoever is generous to the poor lends to the Lord, and he will repay him for his deed."