Welcome to
GRACE
Presbyterian Church
7 North 4th Street, Martins Ferry, OHIO 43935
Come and Worship Jesus Christ with us!
Come
and Grow in Grace!
GRACE CHURCH is OPEN . . . to doing things in a new way. While the coronvirus remains a health risk we have been cleared to open for worship and we have cleaned up and disinfected our buildings for worship. Our buildings, which were closed for 14 weeks for worship, has OPENED! We are now requesting ALL worshippers to wear face masks. If you don't feel comfortable in the church you can join us every Sunday as we worship the Living GOD online in our Internet Church.
Email the Rev. Webster if you are interested at:
Thanksgiving
This year has seen too many painful changes take place. Some have lost loved ones, some have lost jobs, savings, even homes. Some have been affected with COVID-19 virus, or heart issues or cancer or other debilitating health issues. While we can not gather in large numbers this year, we can gather where we are. We gather celebrating what we have while trying not to grieve what we do not have. We have so much to be grateful for. Take time to celebrate the joy of Thanksgiving.
An advent
evening
of
Story, song &
Scripture
This Advent, which begins on Sunday 11/29, we are doing things a little different due to the COVID-19 Virus. One of the big changes is the traditional Women's Advent Communion Dinner. This year, on Tuesday, December 8th we are having a special evening of Stories, Song and Scripture. ​The stories will be told by Linda Webster with various musical guests. It all takes place on our website. So, grab a dessert and join us for a fun evening on 12/8!
​
​
​
​
​
​
​
​
​
​
​
Our worship celebration begins at 10:30 am - in our sanctuary
OR
Online in our Internet Church!

This week while Rev. Bill continues to recover from the COVID-19 virus our Elders will be leading worship. Our Music Leader is Elder, Linda Archer with Elder, Sherry Stratton playing the piano. Elder, Ida Mae Cummins is our worship leader for the month.
Everyone stay safe, be well and remain healthy!
​
Come and join us in the sanctuary or online! Our Internet Church is produced by Dave & Kay McFarlan.
​
Come BACK and worship with us in the sanctuary OR online in our Internet Church.
​
Our Fellowship time, which normally follows our 10:30 am worship, has been suspended until the virus is eradicated.
​
Our 7:00 pm worship, which was held in the Café, has been suspended until further notice.
.
​
GRACE
CHURCH
IS

NOW

OPEN!
Face Masks are required in the sanctuary for worship.
HUGE Thanks to Sandy Albert for making new masks! If you are in need of a wonderfully created mask, they can be purchased from the church for $2.00. The donation goes toward our ongoing mission projects.
Join us for worship every Sunday morning in our sanctuary
OR
online at
for our Internet Church.
Join us in our Internet Church
Our Internet Church broadcasts ou 10:30 AM worship live over the Internet. If you can not join us in the sanctuary, join us on line in our Internet Church.
For The LATEST
Sermon and worship services
Join us this Sunday and connect with people, but more importantly, come and connect with GOD.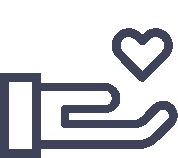 "Whoever is generous to the poor lends to the Lord, and he will repay him for his deed."