Welcome to
GRACE
Presbyterian Church
7 North 4th Street, Martins Ferry, OHIO 43935
Come and Worship Jesus Christ with us!
Come
and Grow in Grace!
GRACE CHURCH is OPEN . . . to doing things in a new way. While the coronvirus remains a health risk we have been cleared to open for worship and we have cleaned up and disinfected our buildings for worship. Our buildings, which were closed for 14 weeks for worship, has OPENED! We are now requesting ALL worshippers to wear face masks. If you don't feel comfortable in the church you can join us every Sunday as we worship the Living GOD online in our Internet Church.
Email the Rev. Webster if you are interested at:
FIRE
On Friday, October 9th, a devastating fire tragically claimed the life of one of our members, making the other homeless. David lost everything. GRACE Church is working to help him get back on his feet. We can never replace all that he lost. But together, we can help him get going again. A fund at GRACE Church has been established. Donations may be made online, through the mail or contribute during our worship service. "The world of the generous gets larger and larger." (Proverbs 11:24). Thank you for your faithful support.
Checks may be sent to:
GRACE Church
7 North 4th Street
Martins Ferry, OHIO 43935
Trunk OR Treat is a unique way for GRACE Church to have a Halloween party for the children in our community, while still maintaining social distancing and observing the protocols from our governor. The event will be held in the Gazebo Parking lot on Sunday, October 25th from 5:00-6:00 pm. All participants giving out treats will be masked and gloved. If you would like to participate as a TRUCKER, call the church office (740-633-2699). We need you at the lot behind the church by 4:30 pm. All area children are invited to participate.
Our worship celebration begins at 10:30 am - in our sanctuary
OR
Online in our Internet Church!
This week our special musical guest is Mark King and from Orlando, Florida! Our Music Leader is Susan Norris. Elder Anita Albert is our worship leader. Sherry Stratton is our pianist! This week the children's Sermon will be brought by Linda Webster.
Rev. Webster's message is entitled: "CARPE DIEM", as we look at Romans 12:9-21.
This week in our worship service we have The Service of Remembrance for one of our members who died last week in the house fire.
Come and join us in the sanctuary or online! Our Internet Church is produced by Dave & Kay McFarlan.
​
Come BACK and worship with us in the sanctuary OR online in our Internet Church.
​
Our Fellowship time, which normally follows our 10:30 am worship, has been suspended until the virus is eradicated.
​
Our 7:00 pm worship, which was held in the Café, has been suspended until further notice.
.
​
GRACE
CHURCH
IS

NOW

OPEN!
Face Masks are required in the sanctuary for worship.
HUGE Thanks to Sandy Albert for making new masks! If you are in need of a wonderfully created mask, they can be purchased from the church for $2.00. The donation goes toward our ongoing mission projects.
Join us for worship every Sunday morning in our sanctuary
OR
online at
for our Internet Church.
Join us in our Internet Church
Our Internet Church broadcasts ou 10:30 AM worship live over the Internet. If you can not join us in the sanctuary, join us on line in our Internet Church.
For The LATEST
Sermon and worship services
Join us this Sunday and connect with people, but more importantly, come and connect with GOD.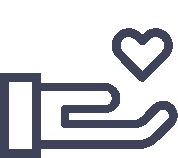 "Whoever is generous to the poor lends to the Lord, and he will repay him for his deed."